Heavy Oil Fly Ash as an Adsorbent for Methylene Blue Removal from Aqueous Solution
Keywords:
Heavy oil fly ash, Activated carbon, Adsorption
Abstract
The industry produces a large amount of solid waste that has very bad effects on the environment. The application of waste material adsorbents for waste materials treatment has become of greater interest. Heavy oil fly ash (HOFA) is hazardous industrial solid waste which produces from the combustion of heavy fuel oil in power plants. The work aims to investigate using waste material heavy oil fly ash (HOFA) after modification to activated carbon (AC) as an adsorbent of methylene blue (MB) in an aqueous solution. Chemical and physical analyses were conducted to characterize the HOFA produced as a by-product of an electrical power station. BET analysis showed the surface area was 1.6 m2/g and the surface area was enhanced by the activation process to 63.7 m2/g and the pore width to 553.5A. SEM showed a change in the nature of the surface of the martial by increasing the porosity. Adsorption studies were performed by batch experiments as a function of process parameters. The removal percentage increased with the increase of the adsorbent to 1.5g, the amount was selected as the optimum dosage. The removal percentage decreased with an increase the entail dye concentration and limited difference in pH variables. The experimental adsorption data was represented with Langmuir, Freundlich, and Tempkin isotherms. The data fitted well to the Freundlich model as multilayer adsorption.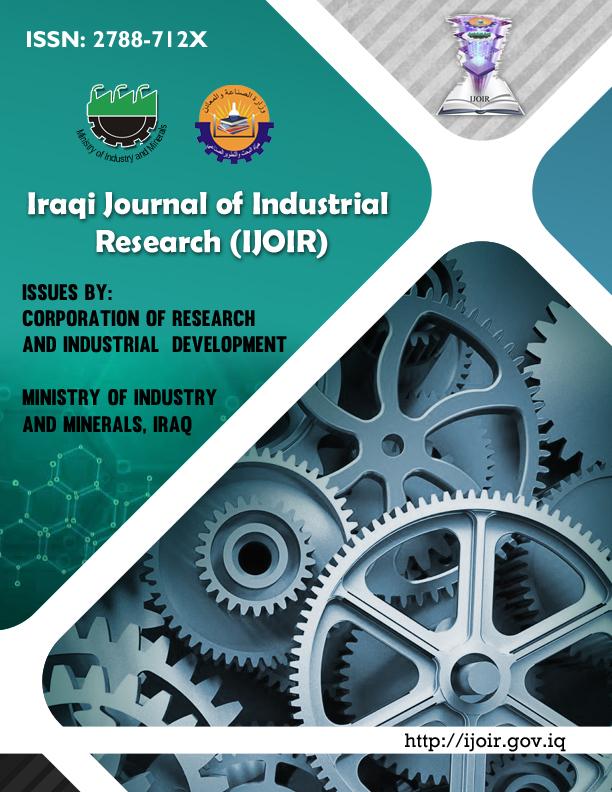 Downloads
How to Cite
Kamil, F. H., Abood, W. M., Mohammed, Y., & Khedair, Z. (2022). Heavy Oil Fly Ash as an Adsorbent for Methylene Blue Removal from Aqueous Solution. Iraqi Journal of Industrial Research, 9(3), 48–56. https://doi.org/10.53523/ijoirVol9I3ID262
Section
Engineering Section
License
Copyright (c) 2022 Faten Hameed Kamil, Waleed Mohammed Abood, Yousra Mohammed, Zuhair Khedair
This work is licensed under a Creative Commons Attribution 4.0 International License.