Synthesis and Evaluation of Alkyd Resins from Underutilized (Delonix Regia and Theventia Peruviana) Seed Oils
Keywords:
Alkyd resin, Polymerization, Delonix regia, Theventia peruviana
Abstract
The inedibility of delonix regia and theventia peruviana seeds represents a significant waste of resources. The physicochemical properties of underutilized seed oils after refinement were studied using Association of Officials of Analytical Chemists (AOAC, 1990) techniques in this study. The refined theventia peruviana oil (RTPO) has a yield of  40.55 %, but its long alkyd resin (LTPOAR) has iodine value of 80.12 (gI2/100g), viscosity 24.17 (30o C, m2/s), saponification value of 177.04 (mg/KOH/100g), and acid value of 9.53 (mg/KOH/g), while refined delonix regia oil (RFBO) has a yield of 52.71 %, with its long alky resin (LDROAR) having iodine value of 133.87 (gI2/100g), viscosity 21.15 (30o C, m2/s), saponification value of 266.42 (mg/KOH/100g), and acid value of 5.71 (mg/KOH/g). For both TPOAR and DROAR, six grades of alkyds were created at 25 % (short), 40 % (medium), and 60 % (long) oil lengths. The acid values of the aliquots for the reaction mixture at various time intervals were used to track the reaction's progress. At the initial stage of the reaction, the extent of reaction (% Pav) ranged from 78.5 to 80.8 %, indicating a significant degree of conversion. The average degree of polymerization (Dp) of the alkyds ranged from 1.03 to 5.20, indicating the synthesis of high molecular weight alkyds. The alkyd films were acid, brine, and water resistant, but not alkali resistant. All alkyd resins were characterized with surface drying and solubility times and were found to be around 2 hours in respect of the 60% oil length.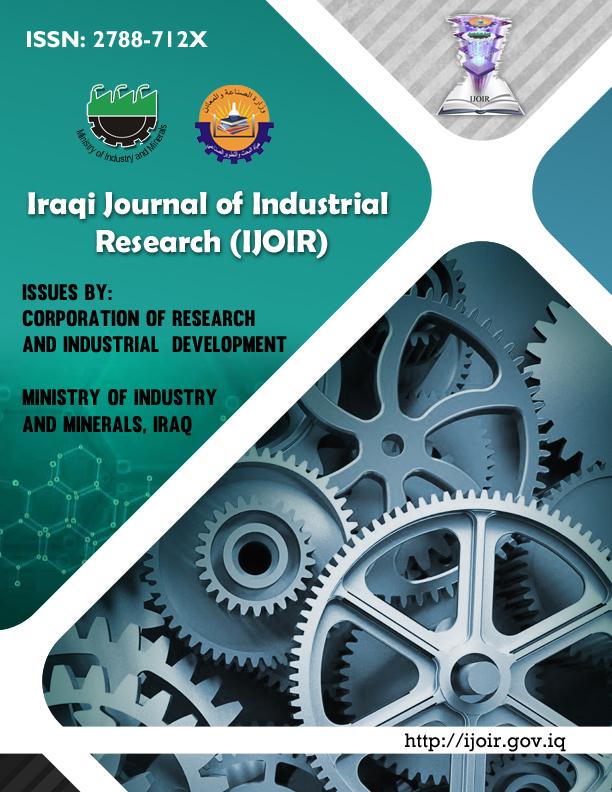 Downloads
How to Cite
Mustapha, A. O., Adisa, S. F., Oladele, S. G., & Afolabi, Y. T. (2022). Synthesis and Evaluation of Alkyd Resins from Underutilized (Delonix Regia and Theventia Peruviana) Seed Oils. Iraqi Journal of Industrial Research, 9(1), 57–74. https://doi.org/10.53523/ijoirVol9I1ID148
Section
Applied Science Section